So, I was looking for this recipe on Good Housekeeping's website (it's not there yet), and almost got distracted by a blurb on their front page about what the Gerber baby looks like today.
I resisted because I knew that if I started heading down that road, I wouldn't resurface until hours from now. After all, an article about a cute baby will inevitably link to another article about something even cuter, etc., etc., etc.
But I'm back on track and have another fantastic recipe from Good Housekeeping to share with you. You picked up the June issue, right? Remember that I suggested you do so after I made Guy's St. Louis Ribs with Tequila BBQ Sauce? I was serious.
I served this drink to the adults at Dudette's birthday party this past Sunday. I would have included the rum but well, it was a child's birthday party and if I had gone out, gotten rum and added it to the pitcher, I bet one of the kids would have poured herself a glass while no one was looking.
Guaranteed.
The Process
Even though I don't like sweet tea, I'm told that I make it well. I use two family-sized tea bags for 2 quarts of hot water, letting the tea steep for 4-5 minutes or so. After it's a nice brown color, I add a not-terribly-full cup of sugar and call it done.
For this drink, I added lemon sorbet, ice and lemon juice to the sweet tea and gave it a whirl in my blender.
That was it; a quick, pretty summer drink.
The Verdict
If someone who doesn't like sweet tea, like myself, thinks a drink is good, I'm guessing it must be. I found it very refreshing and tasty. Hubby, who does love tea, enjoyed it as well.
From how quickly the pitcher emptied, I think the ladies that joined the party liked the slushie concoction as well. It's hard not to when it's warm outside and the drink is sweet, tart and ice cold. I'd call this a winner, though I'm looking forward to making it again … with rum.
What I'd Do Different Next Time
I'd add another half pint of lemon sorbet for a bit more of a tart kick.
The Recipe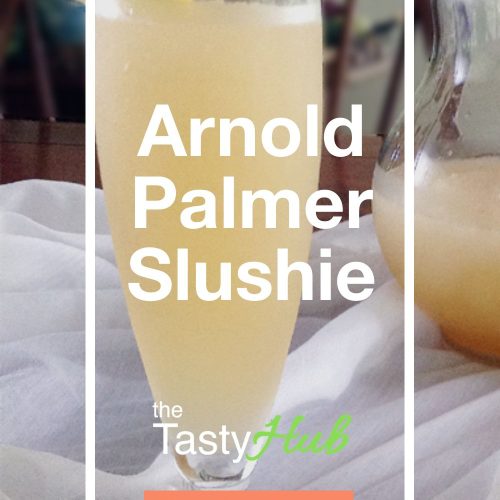 Arnold Palmer Slushie
Sweet tea is joined by lemon sorbet, lemon juice, rum (optional) and lots of ice in this refreshing, delicious summer drink, the Arnold Palmer Slushie. From Good Housekeeping Magazine, June 2014
Ingredients  
3 cups sweetened iced tea

1 pint lemon sorbet

3 cups ice

¼ cup lemon juice
Instructions 
Blend sweet tea, lemon sorbet, ice and lemon juice in a blender until smooth, but still frosty.
Notes
If you prefer more of a tart kick, add an extra half pint of lemon sorbet. 
If you do have the magazine and are following along with me, I'm planning on making Guy's California Brick Chicken with Apricot-Mint Chimichurri for dinner tonight. I'll only be using one chicken since there are just three of us, but from how amazing the recipe looks, that might end up being a mistake.
For other delicious recipes, try these tasty meals: