Come dessert time, the lines are usually drawn with regard to dessert offerings. One group heads for the pecan pie; the other for the pumpkin pie. In case you're curious, I'm the one pushing everyone out of the way so I can get to the pumpkin before it's gone.
Imagine, though, a world where you grab a shortbread cookie, slather pumpkin pie all over it, then top it with a nice big serving of pecan pie. What an incredible mess, huh? Pumpkin oozing off the edges of the shortbread, which is crumbling from the weight of both pies on top of it as the pecans drop off one at a time. Well, that stinks.
Using the dry eraser of the mind, instead imagine a dessert bar that has a bottom crust of flaky, tender shortbread. Over that is a creamy, rich layer of pumpkin. Topping the topping are oodles of pecans, all surrounded by sweet caramel goodness. Better?
The Process
This takes a bit more time than your average bar recipe so take that into account when starting.
The crust is the basic shortbread, with the exception of using brown sugar instead of confectioners'. Salt, flour, salt and brown sugar. All mixed together, pressed into a pan and baked (it's a 30-minute bake, not just a quick one).
The filling consists of eggs, granulated and brown sugar, pumpkin puree, bourbon, cinnamon, salt, cloves and pecan halves. There is also corn syrup and maple syrup.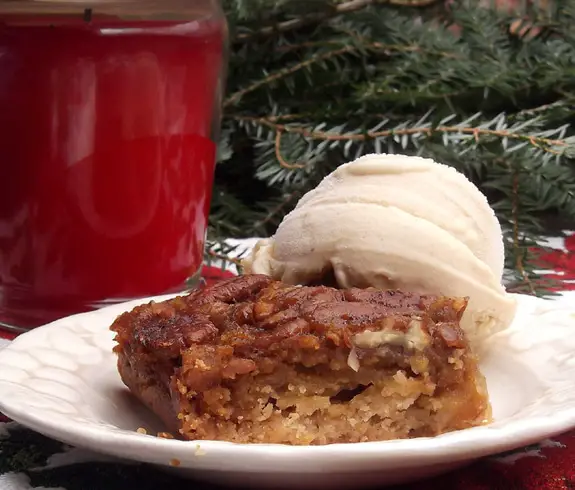 But, the magazine offers the option of omitting the maple syrup and going with all the corn syrup. I took this option. With the combination of pumpkin and pecan, I didn't feel the need to add a third layer. I am a huge pumpkin pie and shortbread cookie fan. I wanted those two layers to shine the strongest. So, my cup of maple syrup was replaced with a cup of dark corn syrup.
When the crust comes out of the oven, the filling is poured over it immediately and the whole works is popped back in to bake for 45 minutes. The bars should be cooled before attempting to cut them.
The magazine included some helpful instructions for cutting. I inverted the bars to a cutting board so the pecan layer was on the bottom. That way, when I cut them, the pecan didn't get pushed into the filling. After that, it was a simple matter of using a spatula to flip them back over onto a plate.
The Verdict
Absolutely fantastic dessert bars. These are wonderful. The crust was tender and crumbly, but strong enough to hold the pumpkin and pecan pie layers. Hubby and I both enjoyed them a lot. In fact, a friend stopped by and was willing to taste-test for me and she said they were very good too. Cuisine at Home gives us another keeper.
What I'd Do Different Next Time
Nothing I can think of.
The Recipe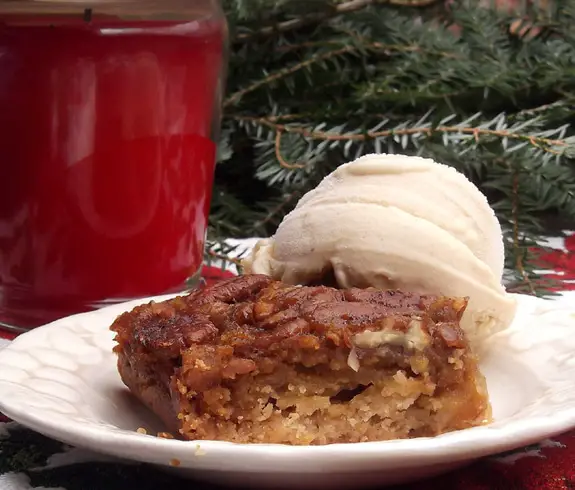 Pumpkin-Pecan Pie Bars
From Cuisine at Home Magazine
Ingredients  
Crust Ingredients
2 sticks (1 cup) unsalted butter, softened

2/3 cup packed brown sugar

2 2/3 cups all-purpose flour

1/2 teaspoon table salt
Filling Ingredients
6 eggs

3/4 cup granulated sugar

3/4 cup packed brown sugar

1 15-ounce can pumpkin puree

1 cup pure maple syrup

1/2 cup light corn syrup

2 tablespoons bourbon (optional)

1 teaspoon ground cinnamon

1/2 teaspoon table salt

1/4 teaspoon ground cloves

3 cups pecan halves
Instructions 
Preheat oven to 350. Line a 13×9-inch baking pan with foil.

For the crust, cream butter and 2/3 cup brown sugar with a mixer on medium speed until light and fluffy, five minutes.

Add flour and 1/2 teaspoon salt and mix until combined but crumbly. Press dough into bottom of a prepared pan; bake until golden, 30 minutes.

For the filling, whisk together eggs, granulated sugar, and 3/4 cup brown sugar until combined.

Mix in pumpkin, maple syrup, corn syrup, bourbon, cinnamon, 1/2 teaspoon salt, and cloves until combined. Stir in pecans and pour over hot crust.

Bake bars until filling is just set, about 45 minutes. Cool bars to room temperature and remove foil before cutting.
Here are other great recipes for delicious meals and desserts: