There are, at the moment, at least two dozen robins hopping around the brown, dead grass that is my front yard. Since it's raining, I think they'll eventually leave with their plump orange bellies much rounder than they were to begin with.
These heralds of spring happen to be my favorite bird. I view them as the blue collar worker of the avian world. They dig in the ground, wear orange and brown flannel shirts and don't talk much.
For those who are curious, yes, I place personalities on just about every bird. Cardinals are the sophisticated, classy group; well dressed, beautiful singing voices. Blue jays are cardinal wannabes. They try to dress just as well but can't quite pull it off. Their voices are harsh with their mean gossip and back-stabbing.
So, who's calling the funny farm to come take me away? This is what having a desk near a window does to a person. I could go on, you know. Finches, Canada geese, bluebirds, woodpeckers, wild turkeys and hawks all make their way to my window.
In fact, there's a bluebird couple checking out the house nailed to a tree at this very moment. A flock of them have replaced the robins. The pair who settle in the house will nest, they will make babies and I'll spend more time watching them come and go than doing the work I should be doing. Such is the cycle of life.
The truth is, however, that I can't think of a good segue from birds to pumpkin bread. The birds were there and I really like them so I thought I'd share what I was seeing and thinking. They don't really have anything to do with pumpkin bread though.
Please forgive my segueless jump from story to process. It's a bit like a flitty, flighty finch, I know.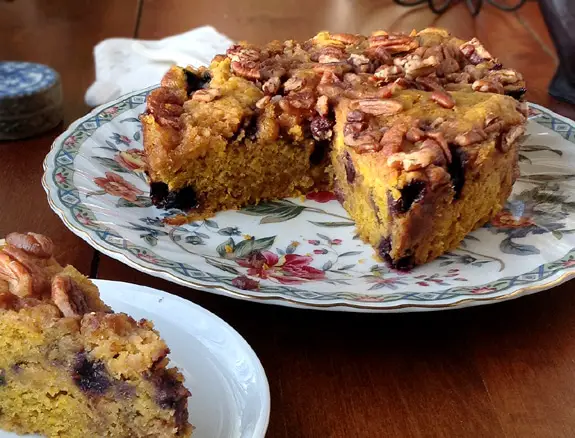 The Process
Every time I make something not stew-ish in my slow cooker I have a big grin on my face. I'm really loving the variety of different ways to use this appliance that I've been introduced to in this Better Homes and Gardens issue. I think I saw a Fine Cooking slow cooker issue on the racks recently. I might just have to get my hands on a copy for March and see what kinds of fascinating and different dishes they came up with.
On to the bread for now, though.
I have to admit that when I think slow cooker, I think one bowl to clean. It's one thing to use a skillet to brown meat. I can deal with that. To use multiple bowls in order to prep a dish for the slow cooker is a bit sigh-worthy.
For this bread three bowls are needed; a medium one for the wet stuff, a large one for the dry goods and a small one for coating the blueberries with flour. That is, three are required unless you use the emptied medium one for coating the blueberries (which is what I did).
The directions say to 'spoon batter into prepared slow cooker.' It's not so much spooning as picking up the glob of batter/dough and dropping it in, then squishing it into place with fingers. It's easy to think that something's gone horribly wrong when seeing the consistency of the batter/dough, but don't be concerned. It's supposed to look that way.
What becomes difficult with such stiff batter/dough, however, is folding fresh blueberries into the stuff. Mine were frozen so I was able to just push them into the blob, but if they'd been fresh, they would have squished all over the place.
The blurb above the recipes says that this should have a biscuitlike texture. I cooked mine for exactly 2 hours because I wanted a more pumpkin quick-bread texture, and I got exactly that. I was happy.
The Verdict
Construction Guy made the mistake of asking Dudette if she like the Blueberry Zucchini Bread I make (I had given his wife the recipe and now it's a family favorite at their house). With the word 'zucchini' hanging in the air, there was no way she was going to try this pumpkin-blueberry bread even though there wasn't a hint of green anywhere near it. I didn't even try.
However, Hubby, Construction Guy and I all agree that this is very, very tasty but way lacking in sweetness. It needs at least double the brown sugar, if not more. Two tablespoons doesn't cut it, not even with maple syrup drizzled on top.
The recipe's a keeper though. It's delicious, easy and worth the two or three-bowl clean-up.
What I'd Do Different Next Time
I'd up the amount of brown sugar to a 1/4 cup.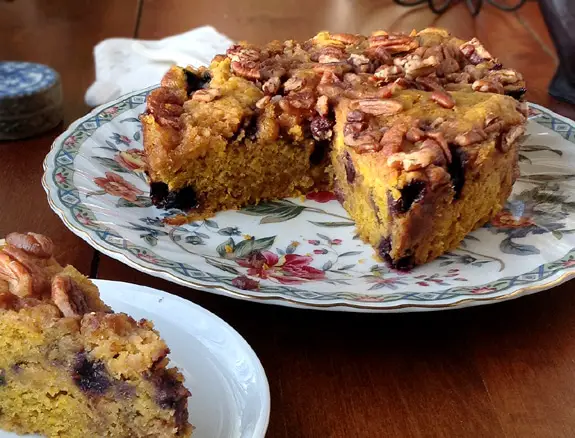 Warm Pumpkin-Blueberry Bread
From Better Homes and Gardens Slow Cooker Special Interest Publication
Ingredients  
Nonstick cooking spray

¾ cup canned pumpkin

½ cup half-and-half

2 tablespoons packed brown sugar

2 cups all-purpose flour

2 teaspoons baking powder

1½ teaspoons pumpkin pie spice

½ teaspoon salt

¼ cup cold butter, cubed

¾ cup fresh blueberries

1 tablespoon all-purpose flour

½ cup maple syrup

2 tablespoons melted butter

½ cup chopped pecans, toasted
Instructions 
Coat a 4-quart oval slow cooker with cooking spray. In a medium bowl stir together pumpkin, half-and-half, and brown sugar; set aside.

In a large bowl stir together the 2 cups flour, the baking powder, pumpkin pie spice, and salt. Using a pastry blender, cut in the ¼ cup cold butter until pieces are pea-size.

Add pumpkin mixture all at once to flour mixture. Stir just until combined. In a small bowl combine blueberries and the 1 tablespoon flour; toss until berries are coated. Fold berries into flour mixture.

Spoon mixture into prepared slow cooker. Pour maple syrup and the 2 tablespoons melted butter over mixture in slow cooker; sprinkle with pecans.

Cover and cook on high-heat setting for 2 to 2-1/2 hours. Turn off slow cooker. Carefully remove lid so condensation from lid does not drip onto bread. Cover opening of slow cooker completely with paper towels; place lid on top.

Cool for 30 to 45 minutes. Serve bread warm from slow cooker.
Notes
What I'd Do Different Next Time
I'd up the amount of brown sugar to a ¼ cup.
If you like this recipe, you may like these too: