Halloween is finished. The face paint can be put away for another year, even if the face cleaning still needs a bit of work amidst the oww's and ouch's. Who knew that cat whiskers were so hard to take off after being so easy to put on.
Because it is November, the leaves can officially fall now. I'm ready to walk through them on crisp mornings and hear them shuffle under my feet. I look forward to the raking; as long as Hubby's the one doing it.
And, I'm ready for pumpkin. I adore pumpkin. I only have it at this time of year. No, it's not because I insist on growing my own pumpkins, harvesting, pureeing them and then using them. I'm as good as the next person with a can opener. I just don't want to fall out of love with it and too much of a good thing can make that happen. Ask me someday about my brother and the first Boston album that came out and you'll find out exactly what I mean.
Now that November is here though, the can opener is out and I have my stockpiles of pumpkin ready to go.
I had planned to crack open the November issue of Fine Cooking today but I got distracted by a recipe I received in my inbox this morning. Ironically, it was from the folks at Fine Cooking; their regular eLetter, which contained a picture and link for their Pumpkin & Ginger Pound Cake. Ginger. And pumpkin. And lots of butter.
Be still my heart.
The Process
You will need four bowls. Just warning you in advance. One will hold the dry goods. Another will hold egg yolk; the third the whites. The fourth will be the master bowl. It gets the blended butter, brown sugar and vanilla.
Once the butter stuff is blended the yolks are added, then mixed. Then the pumpkin, oil and ginger are added, then mixed. Next, the dry goods are added, then mixed. Finally, the whites are beaten to soft peaks then added, then gently folded in (gotcha).
Bake it up; let it cool; sprinkle with powdered sugar; devour.
The Verdict
Hubby said, "Wow, that's amazing." I said, "Shibbit, that means I have to share." Dudette said, "Hey, I like this too." I said, "Double shibbit. I'm going to need more pumpkin." 
Yes, we all really, really (and I mean really) like this. I tend to be a pumpkin purist. When I have pie I don't want anything done to it. I want a simple, normal pumpkin pie with a plop of whipped cream on it. Ok, ok,  I want my Mom's pumpkin pie. I admit it. Is that so wrong?
This cake, however, does the pumpkin flavor justice but allows the ginger to shine as well. I love that. We all do. This is a fantastic, wonderful and terrific cake.
What I'd Do Different Next Time
I'd make sure I have whipped cream in the house when I make a cake like this.
The Recipe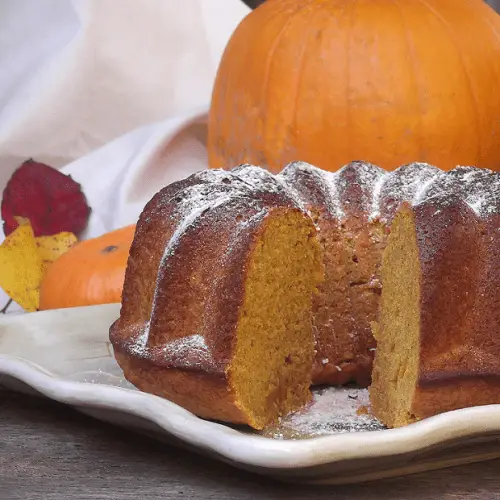 Pumpkin & Ginger Pound Cake
From Fine Cooking Magazine
Ingredients  
½ lb. (1 cup) unsalted butter, completely softened at room temperature; more for the pan

9½ oz, (2½ cups) cake flour; more for the pan

1½ teaspoons baking powder

½ teaspoon table salt

1½ teaspoon ground cinnamon

½ teaspoon ground ginger

¼ teaspoon freshly grated nutmeg

¼ teaspoon ground cloves

4 large eggs, at room temperature

2 teaspoons pure vanilla extract

2 cups packed light brown sugar

1 cup unsweetened pumpkin purée

¼ cup vegetable oil

2 teaspoons minced fresh ginger

1 to 2 tablespoons confectioners' sugar for dusting

1 quart vanilla ice cream (optional)
Instructions 
Position a rack in the lower third of the oven and heat the oven to 350ºF. Butter and flour a 10-inch tube pan or 12-cup bundt pan, preferably nonstick. Tap out any excess flour.

Sift together the flour, baking powder, salt, cinnamon, ground ginger, nutmeg, and cloves; set aside. Separate the eggs, putting the yolks in a small bowl and the whites in a large mixing bowl.

Using a hand mixer or a stand mixer with the whisk attachment, cream the butter on medium speed until smooth, about 1 minute. With the mixer on low speed, gradually add the vanilla and the brown sugar, about ½ cup at a time. When all the brown sugar has been added, stop the mixer, scrape down the sides, and cream the mixture on medium speed until light and fluffy, about 3 to 4 minutes.

Use a fork to lightly beat the egg yolks; then, with the mixer on low speed, add them slowly to the butter-sugar mixture. Scrape down the sides of the bowl, increase the speed to medium, and beat for 1 minute. On low speed, add the pumpkin purée, oil, and fresh ginger. Beat until smooth.

Using a rubber spatula, stir in one-third of the flour mixture, and continue stirring just until the flour disappears (don't beat or overmix). Repeat, adding the remaining flour mixture in two more passes. Scrape down the sides of the bowl and set it aside.

Add a pinch of salt to the egg whites and beat with an electric mixer just until they hold soft peaks. Gently but thoroughly fold them into the batter. Spoon the batter into the prepared pan, spreading it evenly with a rubber spatula. Bake until the cake springs back when touched with a fingertip and a pick inserted into the center of the cake comes out mostly clean with a few moist crumbs clinging to it, 45 to 50 minutes.

Set the pan on a rack to cool for 10 minutes. Carefully run a paring knife around the inside edge of the pan. Invert the cake onto the cooling rack and gently remove the pan. Let cool completely. (If you're making the cake ahead, wrap it now). Just before serving, use a fine sieve to sift the confectioners' sugar over the cake. Cut into ¾-inch slices and serve with a scoop of ice cream, if you like.
If you like this, try out some of these other recipes: