These Cute Little Cheesecakes are adorable and perfect for tucking into a school lunch box or bringing to a big gathering. They're delicious finger food.
Sophie returned to school yesterday. I was a mixed bag of emotions as I gave her a hug at the classroom door and watched her walk to her desk before heading back home to an empty (and quiet) house.
On one hand, waking up to the sound of the alarm stinks. Three months of sleeping in until my body (or daughter) decided it was time to wake up spoiled me. On the other hand, I get my day going earlier. I like sitting down to write just as the sun is peeking through the trees outside my office window.
One of the good things about shipping my child off to school is that there isn't a constant outflow of food from my kitchen. This summer I learned that a bored child is a hungry child, or at least one that thinks she's hungry. That being said, for the next nine months, Sophie will eat what is in her lunch box, not whatever's in the cupboard.
Guess what's in her lunchbox today.
The Process
If you have enough miniature muffin pans to make 48 of these little cheesecakes at one time, it doesn't take too long at all. If, like me, you only have one pan and it makes 12 cheesecakes, it will take longer.
I do have a confession about an ingredient. I don't keep whole graham crackers in the house because they get eaten before I can use them. Instead, I keep boxes of graham cracker crumbs, absolutely unappealing to family members, but there and ready when I need them. One cup of crumbs equals what they call a sleeve of graham crackers.
In order to press my crumbs in the muffin tins quickly and easily, I used a tart shaper. It worked perfectly. I baked my crusts for 5 minutes and filled them with the cheesecake, which was a combination of cream cheese, sugar, vanilla, eggs and cream.
Honestly, the toughest part was removing the paper from the finished, cooled cheesecakes. I think it would have been a cleaner, more neat finished product if I had had silicone pans. I'm not sure if spraying the paper liners with cooking spray would have helped, but I might try that next time too.
The Verdict
As cheesecakes go, this one is right up there. It's creamy and rich and has a glorious amount of vanilla flavor. Because it's cheesecake, it's pretty obvious that I'd be a fan, but Sophie and Hubby liked it a bunch too (drat). 
I've been tucking these in both Sophie's school lunch and the bag of food I send to work with Hubby, but I think they'd also be perfect for a group meal or picnic (like maybe for a Labor Day gathering). They can be made a day ahead and stored in a container in the fridge.
What I'd Do Different Next Time
I'd try lightly coating the liners with cooking spray or would use a silicone muffin pan without liners.
The Recipe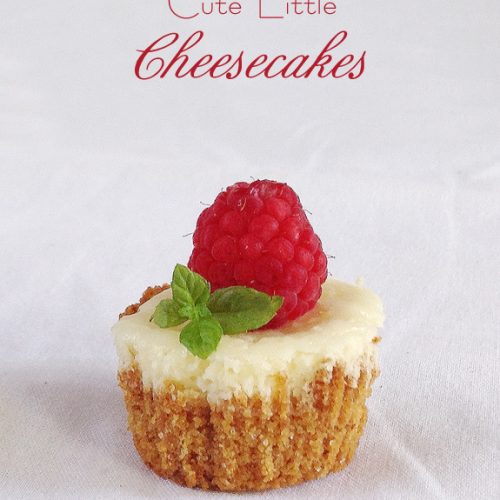 Cute Little Cheesecakes
These adorable little guys are perfect for tucking into a school lunch box or bringing to a big gathering. They're delicious finger food. From Good Housekeeping Magazine
Ingredients  
Crust Ingredients
1 package(s) (about 13 crackers) graham crackers

2 teaspoon(s) granulated sugar

4 tablespoon(s) butter, melted
Filling Ingredients
2 package(s) (8 ounces each) cream cheese, softened

1 cup(s) granulated sugar

2 teaspoon(s) vanilla extract

⅛ teaspoon(s) salt

3 large eggs

¼ cup(s) heavy cream
Instructions 
Preheat the oven to 350 degrees Fahrenheit. Line 48 muffin pan cups with liners.
Crust Preparation Instructions
Pulse the graham crackers and sugar in a food processor until finely ground. Add the butter and pulse until the mixture resembles wet sand. Press about 1 heaping teaspoon of the crumb mixture into the bottom of each liner. Bake for 5 minutes, or until lightly golden, then cool completely on wire racks. Reduce the oven temperature to 325 degrees.
Filling Preparation Instructions
In a large bowl, with a mixer on medium speed, beat the cream cheese and sugar for 3 minutes, or until fluffy. Beat in the vanilla and salt until combined. Add the eggs, 1 at a time, beating well after each addition. Beat in the heavy cream then divide the filling among the prepared liners.

Bake the cheesecakes for 12 to 15 minutes, or until set, but still slightly jiggly and moist in the center. Let them cool in the pans for 5 minutes, then transfer them to wire racks to cool completely. Garnish with your choice of toppings.
Okay, if I don't mention the fact that the house has gone from a place of constant noise and frenetic activity to a haven of serenity and peace, Hubby will call me on it. I miss my little buddy, but I hear crickets and the breeze ruffling the leaves outside my window. That's a good thing.
Other tasty dessert recipes to check out: