The addition of avocado means this Avocado Egg Salad Sandwich with Pickled Celery needs just one tablespoon of mayonnaise. It's delicious!
Are you a sandwich person? I am. I can enjoy a simple tomato and mayo on white bread as thoroughly as a perfectly grilled, piled-high Reuben. 
I've been trying to get Sophie to fall in love with the sandwich as much as I have (it would make lunch meals so much easier), but it's been rough because I can't figure out her tastes. She'll devour a certain kind of sandwich over and over and over until suddenly she'll decide that she doesn't like it anymore. The turkey and cheese went that way.
Or, Sophie will take the minimalist approach. Like, for instance, the way she is with the iconic PB&J. For her, it's just PB. No kidding. 
My child's sandwich quirks make putting together her school lunch box challenging to say the least. Added to that the fact a whole meal can be set aside if one of the children does something to 'gross her out' while she's eating and my chances of a well-fed child coming off the school bus are slim to none.
The Process
Much like all egg salads, the biggest step to this recipe is making the dressing. A combination of the mashed avocado, tablespoon of mayonnaise, lemon juice, and seasonings, it comes together in minutes.
The pickled celery is simple to make as well, especially since it's done in the microwave. I heated water, vinegar and sugar, removed it, added finely chopped celery and let it sit for 15 minutes (just about the amount of time it took to boil and peel the eggs).
All I had to do after that was combine the dressing, eggs, celery and sunflower seeds. Really easy.
The Verdict
To see if I could get the avocado past Doug and Sophie, I didn't tell them that there was any in the sandwich. They never guessed. And they both liked it. A lot. I did too.
The egg salad is creamy, even with just that little bit of mayo. the pickled celery may seem like an extra step and one that can be skipped, but I recommend making sure it's included. It added a lot to the flavor of the salad.
There is one thing though. Even though the little blurb before the recipe explain that leftover salad should be put in a bowl, the plastic wrap laid right on top of it, then more added to the top of the bowl to keep the avocado from browning, it does brown. Trust me, I've seen it happen. 
I recommend eating it all in one day. After that, it may taste good, but it looks nasty.
What I'd Do Different Next Time
Just because of personal taste, I'd use romaine instead of arugula.
The Recipe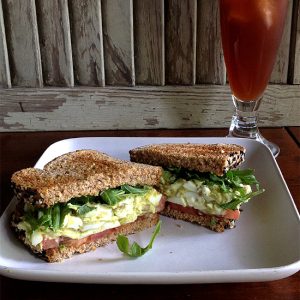 Avocado Egg Salad Sandwich with Pickled Celery
The addition of avocado means this Avocado Egg Salad Sandwich with Pickled Celery needs just one tablespoon of mayonnaise. It's delicious! From Cooking Light Magazine, May 2015
Ingredients  
6 large eggs

3 tablespoons water

3 tablespoons cider vinegar

2 teaspoons sugar

¼ cup finely chopped celery

¼ cup mashed ripe avocado

1 tablespoon canola mayonnaise

1 teaspoon fresh lemon juice

¾ teaspoon Dijon mustard

½ teaspoon black pepper

⅜ teaspoon kosher salt

2 tablespoons dry-roasted salted sunflower seeds

8 (1-ounce) slices whole-grain sunflower bread, toasted (such as Ezekiel)

1 cup baby arugula

4 heirloom tomato slices
Instructions 
Add water to a large saucepan to a depth of 1 inch; set a large vegetable steamer in pan. Bring water to a boil over medium-high heat. Add eggs to steamer. Cover and steam eggs 16 minutes. Remove from heat. Place eggs in a large ice water-filled bowl.

While eggs cook, combine 3 tablespoons water, vinegar, and sugar in a medium microwave-safe bowl; microwave at HIGH 2 minutes or until boiling. Add celery; let stand 15 minutes. Drain.

Meanwhile, combine avocado, mayonnaise, juice, mustard, pepper, and salt in a medium bowl, stirring well until smooth.

Peel eggs; discard shells. Slice eggs in half lengthwise; reserve 2 yolks for another use. Chop remaining eggs and egg whites. Gently stir eggs, celery, and sunflower seeds into avocado mixture. Top 4 bread slices with about ½ cup egg mixture, ¼ cup arugula, 1 tomato slice, and remaining 4 bread slices.
Notes
Just because of personal taste, I'd use romaine instead of arugula.
Okay, so this school lunch attempt didn't work. While Sophie really liked the sandwich the day I made the egg salad, the minute she caught a glimpse of it after the air had turned the avocado brown, she wanted nothing to do with it (not that I could blame her).
For more great tasting meals, check these recipes out: