These individual portions make a perfect addition to a dessert bar. No-Bake Pumpkin Cheesecake Mini Trifles are delicious and gorgeous.
Any time I see the words 'no-bake' little warning alarms go off in my head. It doesn't happen all the time, but more often then not, quick, easy desserts end up looking just like what they are; something that didn't take much time to throw together.
That's a bummer because with the holidays coming up, I use every short cut I can find that saves time without sacrificing any part of a show-stopping table, especially in the dessert arena since I can bake well but sorely lack skills in those final touches that take a sweet treat from tasty to spectacular.
Enter the November issue of Good Housekeeping and their seven holiday dessert, ranging from a time-intensive, meringue-swirled Pumpkin Spice Cake to these delicate-looking, show-stopping mini trifles.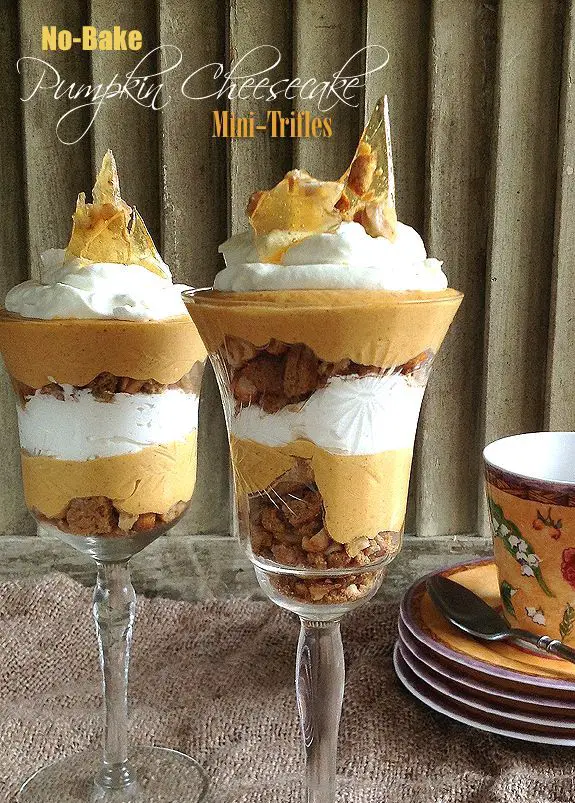 The Process
Easy? Yes, of course. Using a hand mixer to beat cream cheese, brown sugar, pumpkin, vanilla and spices together takes no time. Neither does whipping cream, crumbling cookies and chopping nuts.
Making my own brittle did take a little more time (my sugar reached the needed light brown color after about 5 minutes of boiling), but it was easy and dropping the brittle to create the shards was very satisfying and fun.
The desserts were done in about 30 minutes and parked in the back of the fridge until it was time for dessert.  Easy.
The Verdict
I tested the trifles out on Doug and co-workers and everyone that liked pumpkin loved these. Sophie's not a pumpkin fan so wasn't fond of the one spoonful she tried. I agreed with the comments about how light the dessert was, not over-the-top sweet with a perfect balance of crunchy and creamy.
Nestling glasses of pumpkin trifle between the various cakes and pies would make for a stunning dessert bar. I like that idea.
What I'd Do Different Next Time
For those who want a quick dessert to take even less time to make, swapping out home made whipped cream for a store-bought brand and ready-made brittle are definitely options. (Nothing beats homemade though!)
The Recipe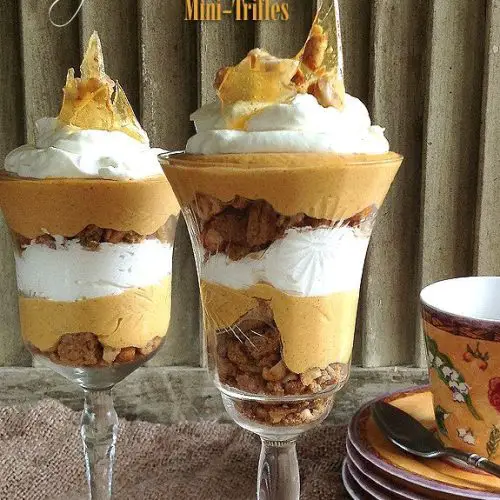 No-Bake Pumpkin Cheesecake Mini Trifles
These individual portions make a perfect addition to a dessert bar. No-Bake Pumpkin Cheesecake Mini Trifles are delicious and gorgeous.
From Good Housekeeping Magazine
Ingredients  
1 8-oz. brick cream cheese, softened

½ c. packed dark brown sugar

1 15-oz. can pure pumpkin

1½ tsp. vanilla extract

1 tsp. pumpkin pie spice

2 c. heavy cream, cold

2 tbsp. plus ½ c. granulated sugar

2 c. crumbled ginger cookies or graham crackers

1¼ c. chopped candied nuts
Instructions 
With mixer on medium speed, beat cream cheese until fluffy. Gradually beat in brown sugar until smooth. Add pumpkin, vanilla and pumpkin pie spice. Mix until smooth, scraping side of bowl as needed; set aside. In separate bowl, with mixer on medium-high speed, beat cream until soft peaks form. Gradually beat in 2 tablespoons granulated sugar until stiff peaks form.

In medium bowl, combine cookies and 1 cup chopped nuts; divide half among 8 parfait glasses. Divided half of pumpkin mixture among glasses, followed by half of whipped cream. Repeat layering of cookies, pumpkin and whipped cream. Cover and refrigerate at least 3 hours or up to 1 day.

Line cookie sheet with foil. Spray foil with nonstick cooking spray. In small saucepan, heat 2 tablespoons water and remaining ½ cup granulated sugar to boiling on medium-high; cook until golden. Working quickly, stir in remaining ¼ cup nuts, then spread mixture onto prepared foil in thin layer. Cool completely. Break into small shards. To serve trifles, garnish with brittle.
Notes
What I'd Do Different Next Time
For those who want a quick dessert to take even less time to make, swapping out home made whipped cream for a store-bought brand and ready-made brittle are definitely options. (Nothing beats homemade though!)
For more great Pumpkin recipes, check out these tasty desserts and dishes: