I don't 'do' Halloween. My daughter does. She's so excited about the upcoming neighborhood hay ride and trick-or-treating party. Today, she wants to dress up as Michelangelo from The Teenage Mutant Ninja Turtles, or so I think. We've gone through a number of ideas, including Spiderman (her hero), a cat (black, of course) and a pirate to name a couple.
What I mean by saying that I don't do Halloween is that I don't dive into it in the same way I do Christmas. The sole decoration that I take out is a door mat that says "Trick or Treat" and has cartoon creatures on it. And Dudette has to remind me to do that.
I'm not a Halloween curmudgeon. My porch light shines bright on the 31st and I'm right there with a big bowl of great brand name chocolates and candies (not the cheap bubble gum stuff), oohing and ahhing at the fun costumes that parade in front of my door when the bell rings. I love getting involved with the little ones and the fun they're having collecting candy in their cute outfits.
But I don't decorate the house, or the yard with fake tombstones, blow-up pumpkins or any of that stuff.
In fact, I raided Dudette's skeletons drawer in order to get that skull. She doesn't do Halloween so much as she does skeletons. Seriously. From life size puzzles to bowls to cheap dollar store models, she has skeletons. They're kept hidden for the most part, though sometimes I'll open a dresser drawer to put clothes away and find a row tucked neatly in like they're napping until she gets home. That's always a charming find.
So, since Dudette loves skeletons, these cookies are for her even though they're supposed to be adult delights (hence the bittersweet chocolate). She may not end up liking the flavor much, but I know she'll love the look.
The Process
These are made in a similar way as any rolled cookie, with two exceptions. The first is the replacement of some of the butter with canola oil. A half cup of both is used. The second is another swap; ab a cup of whole-wheat flour takes the place of all-purpose flour.  I've never used whole wheat flour in a rolled cookie before so I was a bit curious to see how it would work.
As with most cookies, the butter/oil mixes with sugar, all wet stuff is added, dry stuff is sifted, then added, etc., etc. Refrigerate, roll, cut, cook.
I have decided that my stainless steel measuring cups shrunk in the dishwasher because these cookies would not have turned out correctly if I hadn't added more all-purpose flour (almost a quarter cup more). The dough was so sticky and soft that there is no way I could have cut out the little men without the addition.
Even with the added flour, the dough is "weird" to roll out and never was as smooth as any rolled cookie I've made before. I'm not sure if it was the wheat flour or a combination of that and the canola oil, but I didn't like messing with it as much as I had to.
Cooking took just about the 9 minutes as anticipated by the recipe. The cookies ended up nice and crisp, though mine aren't as dark as the ones in the magazine, which is fine with me. The little guys were nice and crisp and ready to decorate.
Decorate. My least favorite kitchen word. The recipe in the magazine is a version of Royal Icing, which hardens well and looks good on cookies. Their ingredients call for meringue powder, which I didn't have. I could have driven out to WalMart, but the thought of going there makes me break into hives, so I just used my go-to Royal Icing, substituting the lemon juice for milk like Cooking Light did. Unfortunately, I ran out of powdered sugar so mine was a little more runny than I would have liked. But, the idea is still there.
Also, these are a pain in the patootie to decorate. I didn't have the little gingerbread cutter, but still had over two dozen of the big boys done. I frosted about half a dozen before I snorted in disgust and gave up. The frosting is in the zip top bag, just waiting in case I decided to have at it again. I hate decorating.
The Verdict
They're chocolate cookies; don't ask me. Hubby said they tasted great. As expected, because of the dark, bitter chocolate, these were loved by Dudette for the look, but not for the flavor. They're definitely an adult version of the kid's cookie. I couldn't taste any wheatiness in these so while it may have been a little different to roll out, the flavor didn't change.
What I'd Do Different Next Time
For our family, again I'd have to lighten up on the chocolate. To keep the color of the cookie dark enough to show off the bones, black food coloring would need to be added, but I'll have to go with a lighter cocoa when I try this again (and I will).
The Recipe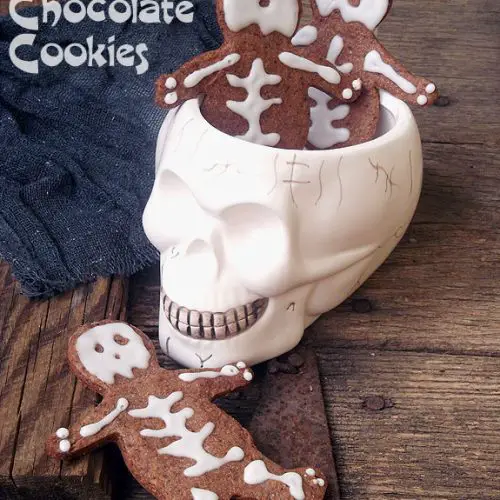 Bittersweet Chocolate Cookies
From Cooking Light Magazine
Ingredients  
1 cup granulated sugar

½ cup butter, softened

½ cup canola oil

1 teaspoon vanilla extract

1 large egg

5 3/5 ounces all-purpose flour (about 1¼ cups)

4¾ ounces whole-wheat flour (about 1 cup)

¾ cup unsweetened dark cocoa (such as Hershey's Special Dark)

½ teaspoon salt
Icing Ingredients
1 tablespoon water

1 teaspoon meringue powder

1 tablespoon 2% reduced-fat milk

¼ teaspoon vanilla extract

2 cups powdered sugar
Instructions 
Cookie Instructions
To prepare cookies, place the first 3 ingredients in a large bowl; beat with a mixer at medium speed until well blended. Add 1 teaspoon vanilla and egg; beat until well blended.

Weigh or lightly spoon flours into dry measuring cups, and level with a knife. Combine flours, cocoa, and salt, stirring with a whisk. Add the flour mixture to sugar mixture; beat at low speed just until flour is incorporated.

Place half of dough between two sheets of plastic wrap; roll to a ¼-inch thickness. Repeat procedure with remaining dough. Place dough (still wrapped in plastic wrap) on a baking sheet. Chill 45 minutes or until firm.

Cut dough with a 2½- to 3-inch cutter to form 40 cookies (reroll scraps as necessary). Arrange 20 cookies on a baking sheet lined with parchment paper (keep remaining cookies chilled).

Bake at 375° for 9 minutes or until set. Cool on pan on a wire rack 5 minutes; remove cookies from pan. Cool completely on wire rack. Repeat procedure with remaining dough.
Icing Instructions
To prepare icing, combine 1 tablespoon water and meringue powder in a medium bowl, stirring with a whisk until smooth. Add milk and ¼ teaspoon vanilla. Add powdered sugar, stirring until smooth.

Spoon icing into a small zip-top plastic bag. Snip a tiny hole in one bottom corner of bag; pipe designs on cookies.
Check out these other tasty recipes: