This German version of cheesecake sports a rolled crust and uses quark instead of cream cheese. It's delicious!
Several weeks ago I asked to make a German cheesecake for someone's surprise birthday party. She's German and an authentic ricotta cheesecake is her favorite sweet treat. I was thrilled to be included in the celebration this way, but after saying yes, I realized that I hadn't ever actually tried a German cheesecake.
That didn't deter me at all though because cheesecake is my chocolate. I never met one I didn't like. So, I began researching Käsekuchen, learning what ingredients go into this unique dessert, as well as what makes up a very, very different kind of crust.
What I ended up with was the recipe for a cheesecake unlike any I had seen before. It starts with a crust that is rolled; yes, rolled. No crushed graham crackers or vanilla wafer. This crust is much more like that for a pie. Interesting.
The cheesecake itself should be made with a cheese called Quark, which is a fresh curd cheese. It also has eggs, sugar, butter and cornstarch. Quark was a bit of a concern for me, especially when I didn't find it at several different grocery stores. What I did find, was a substitution that works admirably, thank goodness.
On Saturday morning, I was all set to make this cheesecake as a test run for the official one. It all begins with the crust, which includes a unique ingredient called vanilla-sugar. While easy to find in Europe, it isn't something that is readily available in the United States yet. Thankfully, it's easy enough to prepare at home.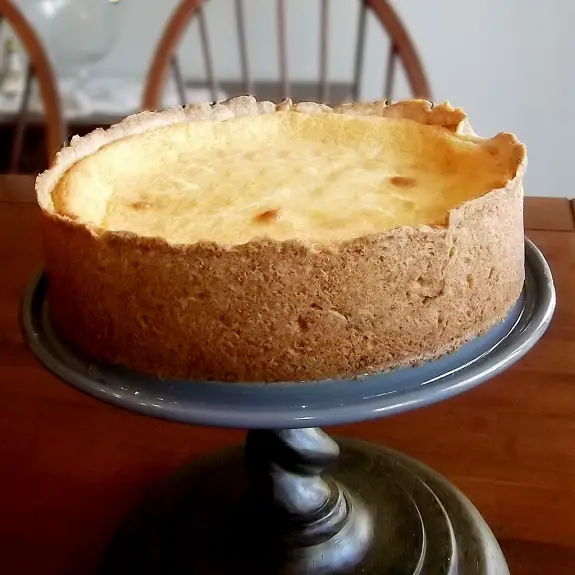 The Process
To make vanilla-sugar simply combine 1 cup of granulated sugar with 1 teaspoon pure vanilla extract. Mix until fully combine, then spread out on a baking sheet lined with parchment paper. Let dry completely. Pour into a zip top bag and roll with a rolling pin until all pieces are broke up. Now you have vanilla-sugar and it's possible to make a German cheesecake.
The crust is made by mixing together flour, baking powder, salt, vanilla-sugar, lemon zest, and sugar. Once those items are well combined, the butter is cut in until the mixture resembles coarse crumbs. Finally, add the beaten egg and knead the dough until it is smooth. Form it into a disk, wrap in plastic, and refrigerate it for an hour. As I said, more like a pie crust than the typical cheesecake crust.
When ready, remove the crust from the refrigerator (and plastic wrap) and roll out to fit the bottom and up the sides of a 9″ springform pan. Gather it back into a ball, then roll it out again. I don't know why this needs to be done twice, but the original author said to do this to make the dough easier to work with so who am I to argue. My dough was easy enough to work with so maybe it did work.
Press the rolled crust into the bottom and all the way up the sides of the pan.
The ingredients for the filling are very similar to normal except with regard to the eggs. They need to be separated. The yolks are beaten in with the other ingredients, as usual. The egg whites and a pinch of salt are whisked until stiff peaks form and are then gently folded into the batter until well incorporated. Then the filling is poured into the crust and it all goes into the oven.
In spite of my cheesecake obsession, it's at this point that a lot of people have different ways of proceeding. Cook a cheesecake for so long with the oven open, with the oven high, low, on or off. Stand on one foot and spin around while you look in the oven while holding your breath. It confuses me, and in all honesty, sets my nerves tingling (in a bad way).
This recipe asked me to cook the cheesecake at 300 for 50-60 minutes, or until golden. It took my cheesecake 64 minutes to get that way. Then I was to turn the oven off and leave the cheesecake in there for another 15 minutes, which I did. Then I needed to remove the cheesecake from the oven and let it cool at room temperature for an hour. Check. Then it needed to go into the fridge to cool fully before removing the sides. Double check.
When it came out of the oven, the cheesecake looked gorgeous. As warned, it was very puffy when coming out of the oven, but sank a bit upon cooling. Even so, it had a lot of height and was a perfect color. I was pleased.
Even so, the big test game today when the friend who asked for the cheesecake came over with several other people to give it a taste test so they could decide if this was a) authentic German cheesecake, and b) if it was the one they wanted for her mother's birthday party.
The Verdict 
The response was overwhelmingly positive. This recipe hit the mark on the first try. In fact, it all happened so quickly that my friend barely had a chance to snap a picture of the cut cheesecake before pieces were headed around the crowd.
The crust is much more along the lines of a pie crust, but still excellent, especially with the vanilla-sugar and lemon zest added. The texture of the cheesecake itself is less silky and smooth than one that is cream cheese-based, but it is also much lighter; less dense. The flavor is also less sweet, but the lemon managed to permeate the entire cheesecake, giving it a very fresh taste.
There was one person in the crowd that didn't find this version of cheesecake appealing. She's four years-old and did not care for this. At all. I enjoyed it, but have to admit that if given a choice between this version and the one I'm used to with cream cheese, I will choose the cream cheese version. I like the silky smooth denseness.  The fact that there is no more cheesecake in my house, however, is a true sign that this was a success and come this weekend, I will be making two more to help celebrate my friend's birthday.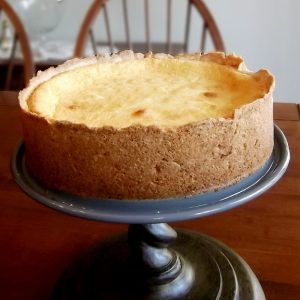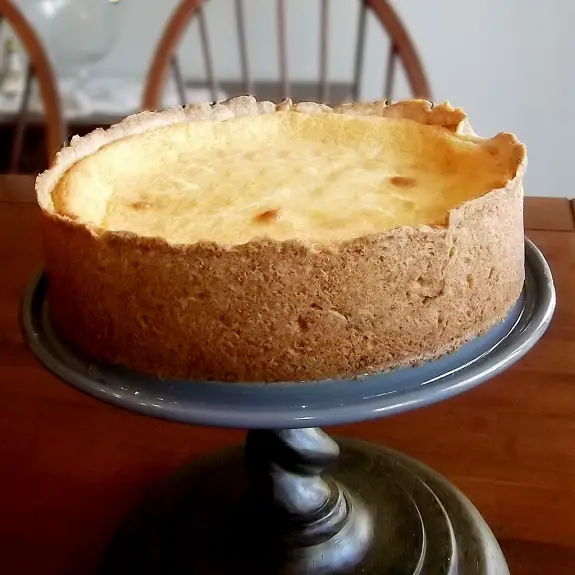 Käsekuchen: German Cheesecake
This German version of cheesecake sports a rolled crust and uses quark instead of cream cheese. It's delicious!
Ingredients  
Crust Ingredients
1½ cups all-purpose flour

1 teaspoon baking powder

⅛ teaspoon salt

2 teaspoons vanilla-sugar

1 tablespoon zested lemon, yellow part only

¼ cup granulated sugar

3½ oz cold butter

1 egg, lightly beaten
Filling Ingredients
3 egg yolks

¾ cup granulated sugar

2 teaspoons vanilla-sugar

3½ oz butter, at room temperature

6 oz. heavy cream

17 oz. Quark

1½ tablespoons cornstarch

3 egg whites

Pinch of salt
Instructions 
Make the Crust Instructions
Sift together the flour, baking powder, salt, vanilla-sugar and and sugar. Add the lemon zest and mix until well combined. Cut in the butter until the flour resembles coarse meal. Pour in the beaten egg and knead until the dough is a smooth consistency. Wrap the dough in plastic and refrigerate for one hour.

Preheat oven to 300 degrees F.

On a well-floured work surface, roll out the dough into a large disk. Gather it into a ball again, then roll it out once more. The double rolling helps the dough become easier to work with. Press dough in to the bottom and up the sides of a 9" or 9½" springform pan. Set aside.
Make the Filling Instructions
In a large bowl, beat the egg yolks, sugar and vanilla-sugar until pale and foamy. Add the butter and beat until incorporated, then add the the heavy cream, beating until mixed well. Finally, add the Quark and stir until the filling is smooth.

In a small bowl, beat the eggs and pinch of salt at high speed until stiff peaks form. Sprinkle the cornstarch over the top of the cheesecake filling, then gently fold the egg whites into the quark mixture until all fully combined.

Pour the filling into the prepared crust, shaking the pan gently until the surface is smooth and all air bubbles are released. Trim the top of the dough to within one inch of the filling.

Bake for 50-60 minutes, until well risen and golden. It will rise like a souffle, but sink upon being moved. This is normal.

After the cheesecake is golden, turn the oven off, leaving the cheesecake in it for 15 minutes. Then remove the cheesecake to a wire rack to cool for an hour.

Refrigerate for several hours before releasing the sides of the pan and serving.

It is best if made a day ahead. Keep the cheesecake covered, in the refrigerator.
For other great cheesecakes to try, check out these other recipes: