The nuttiness of aged havarti cheese pairs perfectly with spinach and herbs in the gorgeous, phyllo-crusted Aged Havarti, Spinach and Herb Cheesecake.
Cheese. It's a weakness of mine. While others swoon over chocolate, I'm snubbing my nose at the brown stuff and wandering over to the good stuff; the tangy, creamy, sharp, nutty, however-you-want to serve-it cheese.
I can just as easily eat cheese on its own, with a bit of bread or on a cracker. But, I have to admit that a creamy cheese spread is what makes my heart go pitter pat the most. 
That's why, when I was asked if I'd be willing to transform a beautiful block of Castello's glorious aged havarti cheese into something delicious, I didn't even have to think twice.  I knew my Castello aged havarti was destined to become a gorgeous, savory cheesecake.
It was a no-brainer.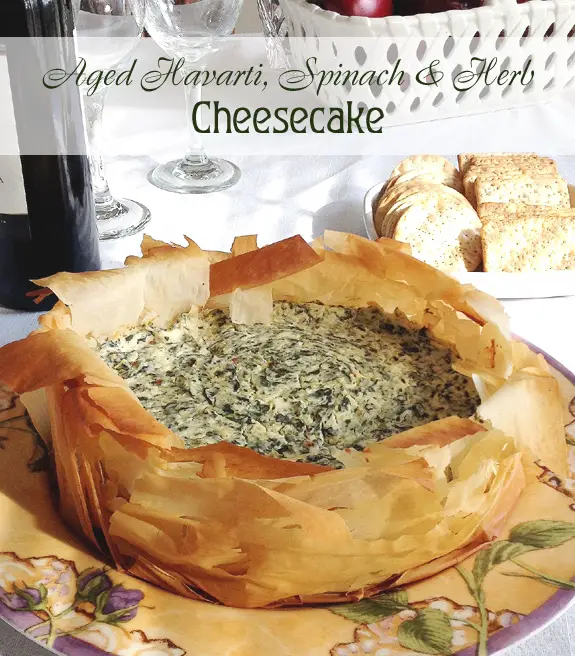 The Process
I chose the phyllo crust for my cheesecake because it's so striking and a cheese like Castello's aged havarti deserved a unique look. Layering the sheets in the pan after brushing each with melted butter was easy enough. 
Actually, mixing up the filling was just as simple. I used my blender, so all I had to do was shred the aged havarti, then add it to cream cheese and sour cream. After a few pulses, I threw in everything but the spinach and let it spin for a few seconds until I was sure all the ingredients were evenly distributed.
Finally, I added the spinach, after making sure it was squeezed of as much liquid as I could get out of it. One final, very quick spin and I spooned the mixture into the shell.
After baking it for an hour, I let it cool to room temperature before serving.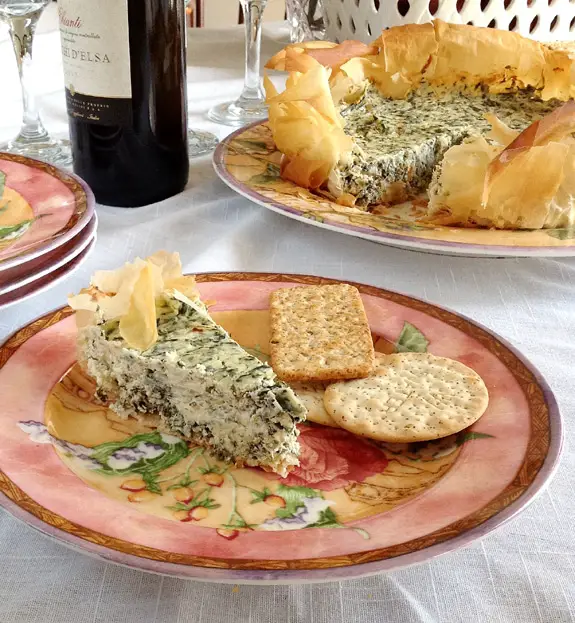 The Verdict
Oh, be still my heart, this was delicious. Aged havarti and spinach do so well together. Add to them some herbs, the tang of lemon juice and pizzazz of pepper flakes, and the result is a memorable, delicious appetizer.
I was very pleased with how well the shell turned out, especially since some of my phyllo pieces folded over the edge of the cheesecake pan as they cooked so I had a dickens of a time removing the side when it was done.
The Recipe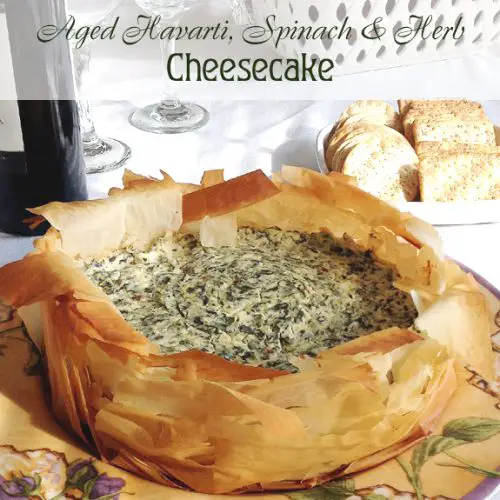 Aged Havarti, Spinach and Herb Cheesecake
The nuttiness of aged havarti cheese pairs perfectly with spinach and herbs in the gorgeous, phyllo-crusted Aged Havarti, Spinach and Herb Cheesecake.
Ingredients  
½ cup butter, melted

9-12 sheets phyllo dough

2 8-ounce containers cream cheese

8 ounces Castello Aged Havarti cheese, shredded

⅔ cup sour cream

3 tablespoons chopped chives

3 cloves garlic, pressed

2 teaspoons lemon juice

¼ teaspoon salt

½ teaspoon crushed red pepper flakes

1 9-ounce container chopped spinach, thawed and all water squeezed out
Instructions 
Preheat the oven to 350. Coat the inside of a 9" springform pan with butter.

Brushing each sheet of phyllo dough with butter first, arrange them in the springform pan, being sure to come up the edges.

Bake the shell in a 350 degree oven for 5 minutes. Remove and let cool.

Combine the Castello aged havarti, cream cheese and sour cream in the bowl of a food processor. Pulse 5-6 times until blended.

Add the chives, garlic, lemon juice, salt and crushed red pepper flakes. Pulse until eveything is well combined.

Add the spinach and pulse again until just blended.

Spoon the filling into the shell, being careful to push it to the edges without breaking the phyllo.

Bake the cheesecake in the center of the oven for 60 minutes or until the center is just barely done.

Remove the cheesecake to a rack and let cool to room temperature before serving.

The cheesecake can be served cold, but is best when allowed to come to room temperature if stored in the refrigerator before serving.
Castello invites you to get creative with their crafted cheeses too. They're offering a$1 off coupon so you can buy some cheese and let your imagine work its magic. I know all the cheeses are fantastic, but I can personally recommend the aged havarti.
For more tasty cheesecakes, check out these recipes: