The sickness saga continues, but in a good way this time. Hubby feels better; still a bit weak but better. Dudette decided that she wanted to help with making him a treat to celebrate his wellness and I had decided on the Piña Colada Cheesecake because I'm selfish and it's cheesecake, which I love.
You don't have to try and adjust your monitor's colors. Yes, the pineapple glaze is orange. It's that way on purpose. One drop of red food coloring did the trick. Hubby told Dudette once upon a time that orange is his favorite color and she's never forgotten (she never forgets anything).. Since this is his "welcome back to wellness" celebration dessert, it had to be his favorite color. So, the glaze is a nice, bright orange.
The theme that continues to develop with Paula Deen's recipes is the simplicity involved in making them. This is no different. A pack of cream cheese, a cup of sour cream, a half cup of sugar, two teaspoons of extracts all mixed together and the filling is done.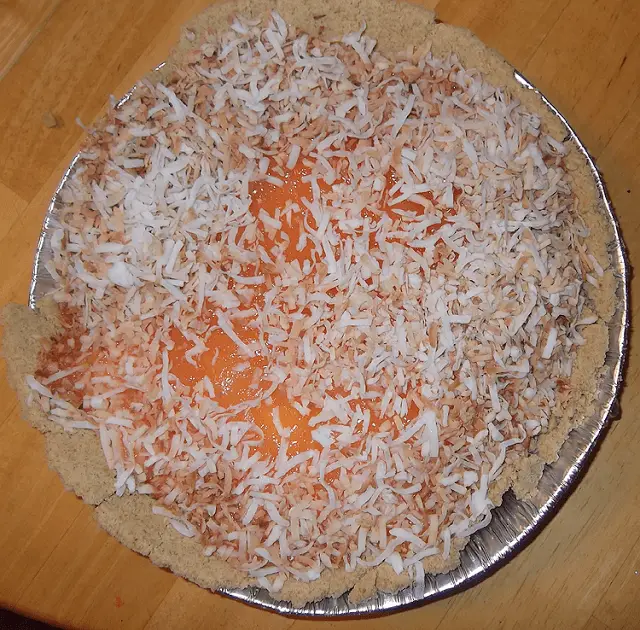 Pineapple jam makes up the glaze. I couldn't find pineapple preserves (in truth, I've never even heard of it). So, I took some crushed pineapple and put it in a small pan. I added a little sugar and some cornstarch and let it simmer until it was the texture of jam. It's the best I could do and I assume it's close to the real deal, but I don't know.
Finally, toasted coconut flakes. Paula's cake has toasted shaved coconut instead, which makes beautiful large chunks and looks gorgeous, but that would have required buying a coconut, opening it and everything involved with that (which means way too much work) so I went ahead with toasting regular flaked coconut. I also had to use a full cup, not just a half, to get a decent  circle around the crust. If you want the pie to look really pretty use shaved coconut (and don't turn the pineapple orange).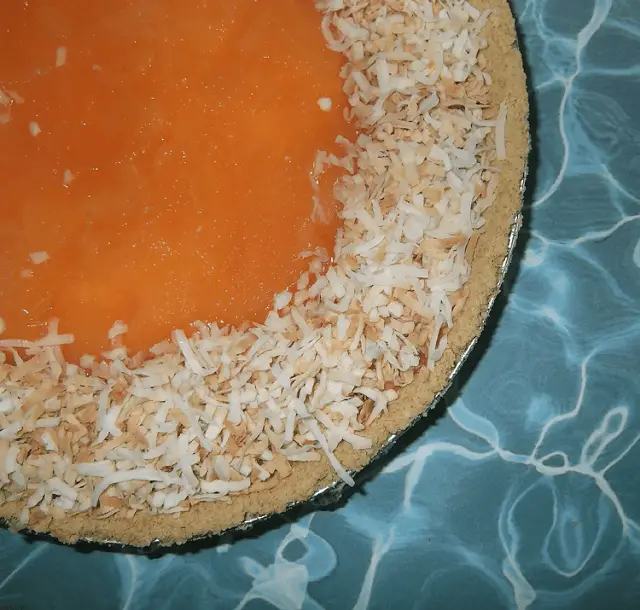 I wanted to show you a piece of what the pie looks like when it's cut into, but I have some bad new and good news. The bad news is that while I was moving the pie, I dropped it; from a height. The good news is that it landed right side up. It just landed hard. Which made it unpresentable (so of course I'm presenting it).
It didn't change the flavor, just the aesthetics. Imagine white cream cheese with orange pineapple glaze on top. That's what it looked like, Salvador Dali style.
Hubby and I really enjoyed this Of course, I don't know what the pineapple preserves would have been like, but making my own pineapple glaze allowed me to influence the flavor so there was a little bit of tartness to offset the sweetness of the cream cheese filling and coconut.
The Recipe
Piña Colada Cheesecake
From Paula Deen's Best Dishes
Ingredients  
1 8-ounce package cream cheese, softened

1 cup sour cream

1/3 cup sugar

1 teaspoon rum extract

1 teaspoon vanilla extract

1 6-ounce graham cracker crust

1 cup pineapple preserves

1/2 cup toasted coconut flakes
Instructions 
Combine cream cheese, sour cream, sugar and extracts in a large bowl. Pour the filling into the crust and refrigerate the pie until set, at least 4 hours.

When ready to serve, spread the pineapple preserves over the cream cheese filling and top with the toasted coconut.
It's a fun dessert that's so simple to make I'm sure I'll be bringing it to get togethers all summer.
Check out these other great cheesecake recipes: